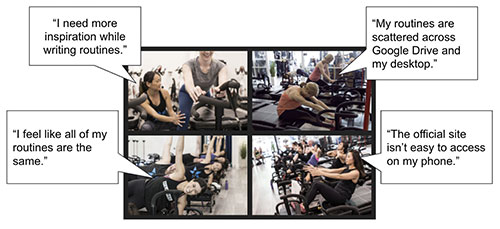 User Stories
Prior to starting this project, I had observed that fellow instructors inevitably hit a point of writer's block when it comes to preparing their routines. I myself have experience this, and for most instructors it means going to the official Lagree fitness web portal and researching the latest and greatest moves. Unfortunately the official site, while filled with information, is a bit of a mess. It's also not friendly on mobile browsers as it uses (gasp) frames in addition to many other mobile-unfriendly features. Other instructors I had spoken with also indicated that whatever methods they were used to using to create and organize their routines were a mess. Word documents scattered around their desktop and various folders, numerous Google docs with confusing names, etc. Other fitness programs, such as Schwinn Indoor Cycling, have had very useful teacher resources and I wondered how Lagree could benefit from some as well.
User Story A
"As an instructor, I want a way to rapidly create routines from the full database of current moves so that I can always have something fresh prepared to teach."
User Story B
"As an instructor, I want to be able to see all of the related moves based on a variety of criteria so that I can improve my routine writing abilities."
User Story C
"As an instructor, I would like a resource that I can easily access from my phone so that I can quickly reference it while teaching."
Wireframes
I started out with a basic sketch of the app and thought about what the major features should be. Users should be able to create, view, and play routines easily from the app as well as modify any existing moves for their needs. A saved routine is not unlike a playlist or an album in a music app. Each move lasts one to two minutes with a brief transition period before the next move begins. Each move requires specific placement on the machine with a variety of variations and modifications. Moves also typically include a suggested level of spring resistance. Spring resistance is set via cables with red and yellow knobs that run underneath the machine. Routines last 40-45 minutes and cover legs, arms, core, and obliques.